Prepare to be hooked… it can be addictive: a play about smoking and vaping. Tapping into desire itself, this romance of smoke and time travel is a 4 part audio-production, which explores the alluring and devastating effects of the global tobacco usage.Official Selection in 2023 for Cusco WebFest, LA Webfest Minnesota and Apulia web fest!
Listen to Tobias and Syd on Spotify, Apple Podcasts and other major platforms, or https://tobiasandsyd.podbean.com, or click on the link below.
What listeners are saying
Really great ! Bold and true and loved the idea of tobacco being a parasite. The piece was unusual and brave.
The production succeeds in showing a tone human frailty and addiction-proneness. Writing, actors, timeshifts, romance, "data": it's all harnessed absorbingly. Donne, Columbus, Raleigh, Colston, Davis, Crawford, Rogers, Grant! *In-spire*. Bravo. It's really good. You've marshalled a complexity here into clear and innovative drama
It's brilliant! You are so clever Elspeth! Thank you for sending it to me. It was such a treat to listen to. You should be very proud.
I have just got to the end of part 3. It is genius! The wisdom in the writing shines brightly. It is perfect for highlighting some many aspects that Connect emotional health to our mental and physical wellbeing.
What an inventive and beautifully written piece.
About Tobias and Syd, I listened to it on the train on the way home. I thoroughly enjoyed it, what a unique and brilliant idea. I loved how we were taken through time, both script wise and the sound - pleasurable and unsteadying at the same time, just like a cigarette!
Tobias is insidious, terrifying at points - he's like a fungus, manipulative… you get feeling Syd is experiencing it at the same time as you are.
Listened to the Omnibus this morning, which was excellent. What an amazingly imaginative and original idea! I like the way it moves easily across time and across the world. The message is clear - that tobacco - and the Tobacco Industry - needs us as much as we need it.
We are so excited that Tobias and Syd has been Selected or Nominated for all of these International Festivals: LAWebfest 2023 Official Selection and Nominee, Baltimore Next Media Web Fest 2023, Sydney Web Fest 2023, Apulia Web fest 2023 Official Selection, Minnesota 2023 Official Selection, Cusco Webfest 2023 Official Selection


What's the story of the play?
Launched on 10th January 2023, the play is hot and smoking! It's a love story and a story of devastation. 

Written and Directed by multi-award nominated Elspeth Penny (Silva Lining's Care Plan), and made by award-winning 2BU Productions, the play gathers original research with a lot of surprising history and a cast of compelling characters. It was initially inspired by a talk that Elspeth invited Professor Andrew Russell to give on the Anthropology of Tobacco, held at the Tobacco Factory in Bristol. The subject matter, and his book, blew her away and she could see that this is the time to tell the story of tobacco.
The play contains tender and truthful 'Letters to My Breath', research based around the real voices of people with respiratory conditions,  conducted by Alice and Elspeth on the interdisciplinary, Wellcome-funded 'Life of Breath' project.
Elspeth and Alice made it to BBC Radio Bristol for an interview about Tobias… on Clare Cavanagh's show: 
Why is tobacco still so appealing and popular around the world?
We are looking at tobacco from the side, from the back, the bottom and all the angles in with our play and Event series, Tobias and Syd. Tobacco, and now vapes, have a hold over so much of the world, why? To explore this question, we are accompanying the play with a series of Events about tobacco and vaping, for in depth discussion. We want you to join us in this discussion.
Our list of speakers for
'Tobias and Syd' online events
Raffy Van de Wal. A young Buddhist talking about their relationship to smoking.
Mental health service provide [speaker TBC] talking about access to vaping in mental health units
A young person talking about anxiety, identity and smoking/ vaping
Our 4 events went brilliantly, huge thanks to all those who came and added to the discussion. Also to our amazing speakers, Elisha for her work in the background, to our 3 organisers, Alice, Elspeth and Andrew for creating such a rich setting to explore the infinitely fascinating subject of Tobacco, inspired by Tobias and Syd, the play.
During December and January we were mixing, recording credits, editing again, polishing… it's always more work than you expect when it comes to the close mixing stage.
In October 2022, we recorded the play live in Bristol, and Iain Hunter our Sound man sent over the sound files for Elspeth to choose for the first edit. These have now been assimilated and the sounds are being added. Matthew Sheeran is bringing together the music, and then this will be edited in.
Check out: Bonus Tobias and Syd: uncover the gift of inspiration for other news; Videos from the cast uncovered; meeting First Nation people and insider use of tobacco; what people are saying; how are we are making Tobias and Syd?
Over two days in October 2022, we recorded the play on location, at The House of Dunstan in Bristol. Accomplished actors, Sion Daniel Young played Tobias and Ell Potter played Syd – both awesome. It was an exciting few days, with a few curve balls hurled at us, then swiftly overcome – such as our original lead actor Alex Vlahos came down with Covid on the morning of the recording and wasn't able to make it in. We made 180 takes in all, and kept to schedule by making a few adaptations to the orders of the day. Andrea Hernandez provided a beautiful location.
Sion Daniel Young
Ell Potter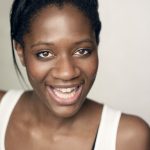 Kezrena James
Joseph Tweedale
Gaia Ashwood
We asked Actors Ell Potter and Kezrena James to talk tobacco....
We are inviting a series of videos from members of the public. Here Jim Compton speaks from Banff, Canada.
Writer and Director Elspeth Penny talks tobacco
Follow us on Instagram @tobiasandsydsmoke,  Tiktok @tobiasandsyd and our usual social media at the bottom of this blog. And share this QR code.
Working together on this, our team, a co-production with our audience
How we work at 2BU Productions, makes a big difference to the end piece of work. We invite comments from audience, teen advisors and co-producers from the very beginning. It might be uncomfortable at times for members of the creative team to be sharing their work publicly so early in the process, but it's important for us to make sure we have a lot of different view points feeding into the work from the very beginning, and to support each other as we go about the work.
Elisha Westmore
Elisha is our ambassador for Tobias and Syd. In her first post-graduate role as Intern at House of Imagination in Bath, Elisha aims to map the creative industries in Bath. She's also worked as content creator for The Studio in Bath, and has was Student Ambassador at Bath Spa uni in her final year at uni.
Aggie Nyagari
Aggie is a Kenyan film/TV director/editor and web content creator living in Bristol. She loves playing hockey, cycling and camping and filmed our workshop exploring tobacco and vapes at Clevedon school with drama students.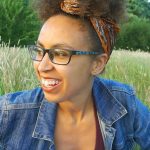 Charlotte Bailey
Charlotte Bailey is a comic artist, filmmaker, writer, host, brand consultant & creative coach based in Birmingham, UK. She uses film, essays, sci fi & comics to explore her interests in Jamaican-English heritage, relationships between people & sustainable futures. She has attended our advisory group meetings and will be one of our Event speakers.
Arthur
Arthur is a 6th former studying Philosophy, Sociology and History. He plays jazz saxophone and was an invaluable runner for 2BU Productions during the production week of Tobias and Syd, and a regular advisor.
Sol
Sol advised us on what people his age might be attracted to smoking and vaping in the 'social areas' of cafes or bars.
Evie
Evie doing her GCSEs, and has given us some top feedback on the script, in one of its early drafts.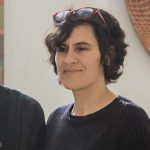 Andrea Hernandes
Andrea Hernandez is a musician and artist. She is neurodiverse, is a source of ideas, inspirations and new perspectives. She smokes and she hosted the recording of Tobias and Syd at a new studio in Bedminster: The House of Dunstan.
The Play 
Writer and Director: Elspeth Penny
Dramaturgy and Executive Producer: Sara Davies
Sound and Editing: Iain Hunter
Producer: Elspeth Penny
Tobias: Sion Daniel Young
Syd: Ell Potter
Nell/Joan: Kezrena James
Columbus/ John Donne: Joseph Tweedale
Harry: Joseph Tweedale
Newsreaders: Gaia Ashwood, Joseph Tweedale
Teenagers: Aaron Donovan, Reuben Orr
Breath voices: Cast and Production Team
Co-production Advisory Panel: Charlotte Bailey, Arthur Burston, Andrea Hernandez, Aggie Nyagari, Sol Okasha, Evie Shortman, Jack Owen, Bede Burston, Lois Barton, Miles Chambers.
Young Advocate: Elisha Westmore
Photos and Videos: Tom Sparey, Arthur Burston, Nick Sutton
Illustration: Maria Herreros
Thank You for all the wider help, support and additional material from more people that can be mentioned. Thanks to Andrew Russell, Alice Malpass, David Richmond, Deasy Bamford, Theatre Orchard, Julie Peel, Becky Condron, Elisha Westmore, our invaluable advisory group – Arthur Burston, Charlotte Bailey, Bede Burston, Aggie Nyagari, Evie, Sol, Andrea Hernandez, Jack Owen. To our early stage exploratory cast – Kirsty Cox and Chris Pirie and the audience that chose this play. Also to Miles Chambers, Angie Belcher, 2BU's non-executive advisory board, Fiona Matthews, Paul Appleby, Barny Hole, Justine Schneider. To Innovate Edge Uk, Heather Wright, Saikat Ahamed, Aisha Ali, Mya-Rose Craig, Lee Hutchinson and the MShed, The Island, The Puppet Place, Lois Barton, Clevedon School drama department and students, First Nation producer Jim Compton, the first Indigenous screen summit at Rocky Awards 2021, Jean Rankin, The Bristol Packet, Tess Davidson, Raffy Vanderwal, Elizabeth Rahman, Kate Binnie, Karing Silver and Louis Laurence from Tobacco Tactics group, Alex Gapud, Matthew Chapman from the Bureau of Investigative Journalism, Angie Athay-Hunt and the Open Door adult drama participants at Theatre Orchard and Havi Carel.
Maria Herreros
We commissioned a Spanish artist to make an image for the play. Maria is a painting, illustration, mural and comic artist. She's involved in commercial, artistic and social projects wolrdwide. Currently focusing on gender equality and social justice. Her style plays with the concept of stabilised beauty and shaking normatives.
What next for Tobias and Syd?
We're still building collaborations and links, with Mshed, Theatre Orchard, international universities and health initiatives and many unquestionably brilliant individuals. Get in touch with Elspeth at info@2buproductions.co.uk Tobias and Syd is funded by Arts Council England and Durham ESRA IAA fund and is being made by 2BU Productions. Follow the project using the QR code above.
Excellent. Very enthralling! So complex but easy to get on board. Breath is one of the things I try to use to calm and get to sleep. My Res Med machine helps me control my breath for sleep Apnia and helps me control it. As a journalist we all smoked in the office and begged fags off each other I think it was to do with concentration and a displacement exercise. I'm so pleased less people smoke and young people are not doing it. I know a girl who tells me her friends use the flavoured machines they think it is less harmful than smoking. Lots to think about.' Moira Conway
'Emotionally gripping, edgy, challenging, poetic, vivid. The script and production is clever, multilayered, fun. I was totally hooked!' Anonymous listener.

We encourage you to share your tobacco and vape stories with us! Example videos can be found on our Instagram (@tobias_and_syd_play) and Tik Tok (@tobiasandsyd). We are looking for a wide range of stories – from the weird and funny to the sad or nostalgic. All opinions, views, and stories are welcome.
If you don't have a story in mind and would like a bit more guidance, we have some questions that might prompt thoughts: 
What does tobacco mean to you?
Do you smoke or vape and if so, why?
What is your first memory of you or someone else smoking/vaping?
The ideal length for a video would be between 30 seconds and 1 minute as we are using our Instagram and Tik Tok to share the videos in the first instance, but it's not a hard limit. Probably no more than 3 minutes though! You are more than welcome to send the video to us and we can post on our social accounts, or post on your own socials and just ensure to use #tobiasandsyd so we can see and share! If so, please also ensure that a consent form (attached) is filled out and sent along with the completion of the video.
We look forward to seeing what you create! Thank you!
Tobias and Syd illustration by Maria Herreros. Photo Credits: Tom Sparey, Elspeth Penny. Big thank you to all our unparalleled creatives, advisors, contributors and funders for supporting this work.
Our intention is to create material which stimulates honest lively discussion, but we are not providers of resources to help you quit or deal with addiction, uncomfortable feelings or relationship problems. However, there are many great resources out there, which some of the team have found personally useful. These include: